5 ITEMS TO SPRUCE UP YOUR HOME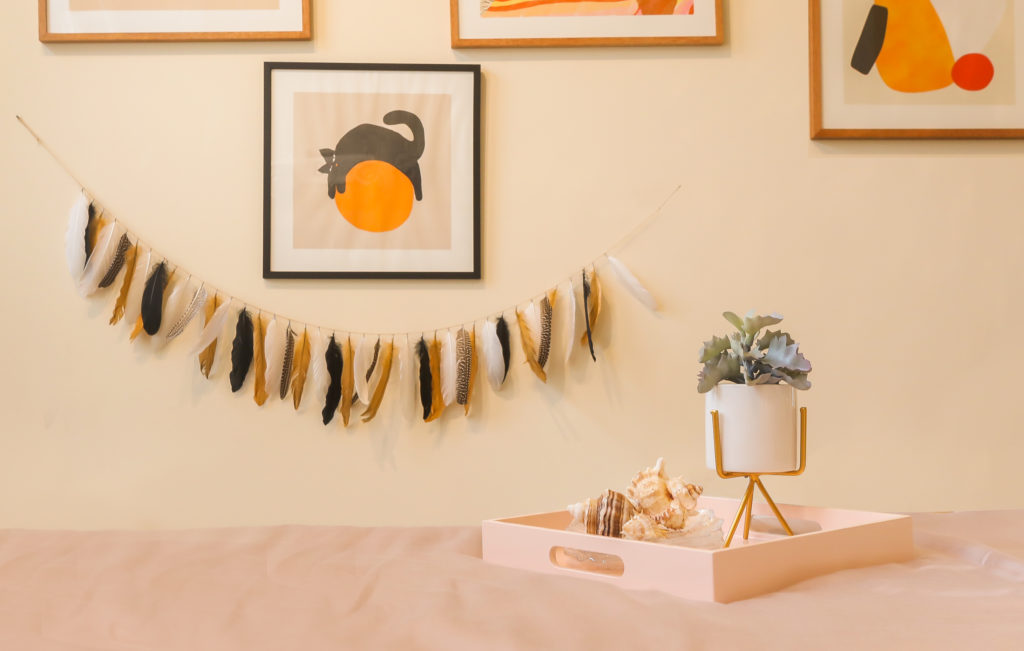 #1 GARLANDS
Garlands are the perfect ensemble to dress up any space. It promotes depth and texture to a seemingly ordinary space. Affix it on the wall or across an empty crevice and voila, instant gratification.
#2 TRAYS
Trays of all shapes and sizes help hold a look together. Good for bedside tables, doorway consoles, work desks; essentially any tabletop surface. It's great for the OCD driven individual to perfectly group their items together. Also, especially helpful for the messy and forgetful.
TIP: Always group items in odd numbers and play around with different heights.
#3 ART PRINTS
Art prints undeniably jazz up any wall but you don't have to break the bank to own a piece of art. Try painting your own canvas, be creative, it's a great way to destress as well.
TIP: You don't have to hang up your art prints. You may also lean them against the wall or put them on your book shelf to add extra depth to an otherwise ordinary setting.
#4 FAUX PLANTS
Many argue that faux plants don't look as good as the real thing and yes while we agree… Faux plants also don't die. That's our only argument. The modern working class hero doesn't have time to tend to a living plants requirements but that isn't to say that you can't add a little green to your humble abode.
TIP: There are several types of faux plants to choose from but we recommend using fern leaves in odd numbers. They don't attract so much dust and their shape accentuate any space.
#5 SMALL CATCH ALL DISH
Smaller catch all dishes are great for room organization. Everyone owns some kind of trinket, bits and bobs that we keep losing. Hair ties, earrings, cufflinks and the link all deserve it's own little catch all dish.
Have fun sprucing up your home! Get creative, there really are no rules. Everyone has their own idea of a perfect home.
xoxo,
The Cream Team